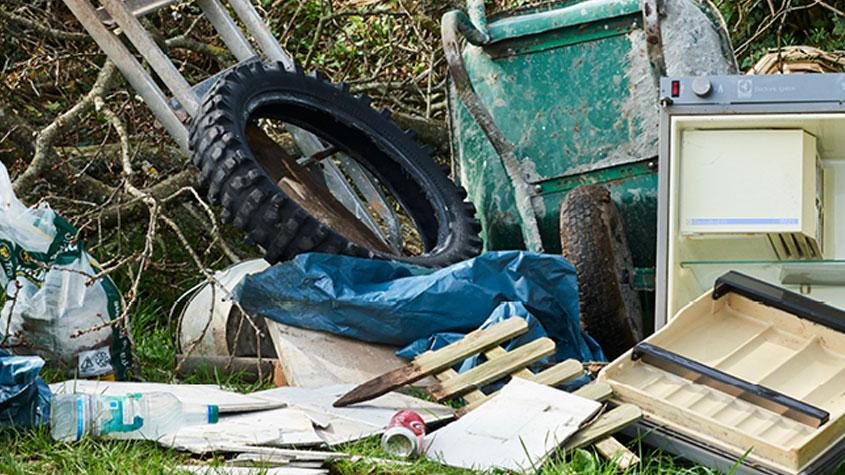 Tackling the impact of waste crime
The Clean Devon Partnership is highlighting the enormous scale of the county's fly-tipping problem with a campaign taking place on Roborough Downs and the surrounding area between 14 and 17 March 2022.
Local authorities in Devon (inc Plymouth and Torbay) recorded a staggering 13,463 incidents of fly-tipping on public land in 2020/21 with the majority of them (65%) involving household waste, which residents can put out for collection by local authorities or take to recycling centres.
About 30% of incidents included construction, demolition and excavation waste; white goods; green waste; other electrical waste; tyres; vehicles parts; animal carcasses; chemical drums, oil and fuel; clinical waste and asbestos. Three per cent of incidents were commercial waste.
The National Fly Tipping Prevention Group estimates it costs landowners between £50m and £150m to clear up this onslaught of fly-tipping each year. The true scale of the problem is extremely hard to measure as many landowners do not report incidents.
The focus of the campaign is to raise awareness, empower people to report fly-tipping through the correct channels and encourage householders to use the network of recycling centres across the county. Those who use a contractor must ensure they are reputable and licenced for waste removal.
Fly-tipping is a serious crime and local authorities always look to catch and prosecute those committing it. It is punishable by up to two years imprisonment and up to a £50,000 fine upon conviction, with the increased use of CCTV, local awareness groups and the sharing of vehicle details on social media platforms we are optimistic that more people will be caught in the act!
Environment agency Waste Crime Engagement Specialist, Kevin Baker said: "The impacts of waste crime are widespread. It has an adverse effect on individuals, legitimate waste disposal businesses, public services, the environment and the economy.
"Illegal tipping is an eyesore. It can pollute the environment through the release of hazardous dust, or surface and groundwater contamination. Tipping could potentially damage human health or wildlife and livestock, through irresponsible dumping of hazardous substances, for example asbestos, and unauthorised fires and burning.
"It's essential that people challenge who they give their waste to, ask where it will go, record the details of the vehicles used, avoid cash and get a receipt. Any legitimate operator would be happy with these requests."
Guidance on how to report fly-tipping can be found on the Clean Devon web page along with the simple guide below which will help you ensure you are staying within the law.
You can follow the campaign on the Clean Devon website and on Twitter via the hashtag #CleanDevon.
ALWAYS:
• Check the credentials of anyone you hire to remove waste via the Environment Agency public register or ring/email the Environment Agency 03708 506506 or enquiries@environment-agency.gov.uk
• When they arrive, ask to see their licence to ensure that your waste is being taken by a licensed waste carrier.
• Take a note or photograph of the registration number of the vehicle that is being used to take your rubbish away.
• Ask where your rubbish is being taken, record any checks you make and ask for a receipt.
DON'T:
• Use any contractor who cold calls on you without checking them out before committing yourself. If the contractor is genuine, they will return.
• Use contractors who leave cards or leaflets without checking them out.
• Use any contractor whose terms seem too good to be true; if it seems too good to be true, it probably is.
https://cleandevon.org/wp-content/uploads/fly-tipping.jpg
684
845
cleandevon_admin
https://cleandevon.org/wp-content/uploads/clean-devon-logo.png
cleandevon_admin
2022-01-12 10:21:28
2023-04-06 14:20:51
Tackling the impact of waste crime